Payments processed by

YOU CAN CALL US ON:
+44 (0)1256 811118
Latest News
The latest mechnical pipette from Sartorius is now available from Elkay, Sartorius's largest UK pipette service dealer. Tacta is light and wonde...
more
From ABDOS pipette tips and PCR plates from Elkay Laboratory Products; swabs, Pasteur pipettes and freezer racking from Medline Scientific; pipetting ...
more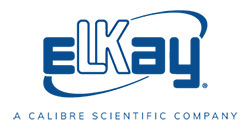 Accu-rated™ PVC Pump Tubing, Red/Red with Flared Ends
Product Description
Elkay microbore tubing is identical to our standard Accu-rated tubing but has the additional convenience of flared ends. These allow for easier fit to small bore connectors. Suitable for all types of peristaltic pumps has a reputation for reliable performance. Accurated PVC tubing is FLOW RATED and has been heat treated for increased life. It is suitable for general laboratory use and is resistant to most routine chemicals. Transparency allows for convenient flow monitoring and PVC tubing bends easily, grips connectors firmly and simplifies pump set ups. This tubing meets USP Class VI and BS2463. US pharmacopoeia tested and certified.
Note image does not show flared end.
Cat. No.:
116-0549-10F
Unit Qty:
12
Packaging:
Pack

Unit Price:
£73.00
(excl VAT)
Features
Specifications
Literature
Images
Product Features List:
Flared ends
Non-toxic
Non-aging
High chemical resistance (particularly milk acids, alkalis and salt solutions)
Constant and accurate flow rates
Heat treated, medical grade PVC
Durometer of 60 - bends easily, grips connectors firmly and simplifies pump setups
150mm bridge interval
Additional Information:
Note: Elkay uses the term ´bridges´. These are also commonly known as ´stops´ or ´collars´.
Applications:
Peristaltic pumping for laboratory and pharmaceutical
Diameter (Outer):
2.819 mm
Sterility:
Suitable for Ethylene Oxide sterilisation
Temperature Range:
-50° to +74°C